Welcome to Cameo Rose Victorian Country Inn
We're In the Middle of Everywhere!
What a difference a night makes at Cameo Rose Victorian Country Inn - a Madison, Wisconsin area bed and breakfast and award-winning, relaxing getaway on 120 scenic acres of woodlands, meandering trails and lush gardens.
Ideally situated minutes from vibrant Madison and the University of Wisconsin, New Glarus (Little Switzerland) and New Glarus Brewing Co., Mount Horeb - (Little Norway), Verona's Epic campus, and near 4 state bike trails, the inn offers affordable luxury, distinctive fireplace and whirlpool rooms and the "best beds" and ""the Best Breakfast in the Midwest" per guests. Book Direct Now!
Experience a stress-free world of immense peace and beauty that awaits you at our Madison, WI area country home nestled amidst rolling hills, picturesque woodlands, spectacular views, miles of meandering private trails, gardens, gazebos, serenity pond, soothing waterfalls and stargazing.
As Jay Lerner once said "Don't let it be forgot that once there was a spot, for one brief shining moment that was known as Camelot."
Enjoy a true get-away in an elegant Southern WI bed and breakfast with Spring flower beds, Summer rose gardens, Fall foliage color and a Winter wonderland. Treat yourself to one of the most beautiful places to stay, a peaceful retreat and a Wisconsin green travel eco-friendly B and B inn, ideal for all seasons and for all reasons.
See Pictures Below.
Get Our Newsletter.
Buy A Gift Certificate For Any Occasion. Call 608-424-6340.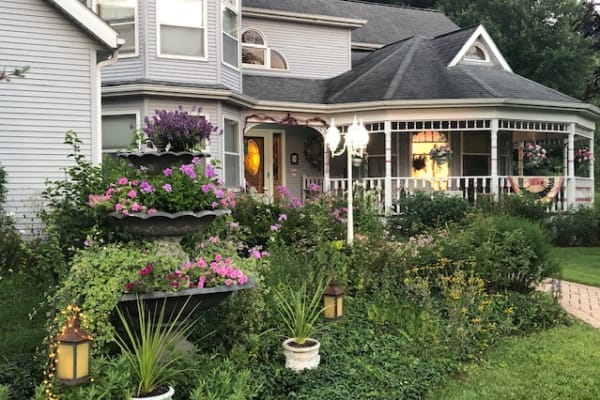 Subscribe to Our Email Newsletter
Be the first to learn about our seasonal promotions and special deals.

Click Here to Subscribe
"The Nicest People in the World Stay at the Cameo Rose!"
Stay longer where the land and views are worth the price of a stay, where guests may hike, cross-country ski or snowshoe miles of private trails in the woods and pines, past hills and rock formations and under 100 year old oaks... "so close to everything, yet so far from the stresses left behind" of airplane, train and freeway corridors, sirens and streetlights. Enjoy 101 Area Things To Do in South Central, Southern Wisconsin.
Learn More
Come Find Us