Specials
Book Direct And Enjoy These Specials
Cameo Rose bed and breakfast specials are based on length of stay. There is a 2-night minimum on weekends, May 15 through October 31, but you may be put on our Wait List for a 1-night weekend stay or check within 48 hours for 1-night availability.
There is so much to do in our area... See "101 Things To Do". Stay a weekend or a week.
2-3 NIGHT STAY: SAVE $15 per night off our regular daily rate for any consecutive 2 or 3 night stay. Discount is automatically deducted when your reservation is made.
4 NIGHT STAY: SAVE $20 per night off our regular-daily-rate* for any 4 or more consecutive night stay any time. Discount is automatically deducted when your reservation is made.
* Only one discount applies. All specials are based on our regular higher daily base rate indicated on our "Accommodations" page. Discount applies to a stay in the same room unless availability requires otherwise.


SPECIAL OCCASION PACKAGE: Add our Special Occasion Package to your stay. Package includes a dozen long stem roses lavishly presented, a wrapped box of fresh assorted hand-made chocolates, and a complimentary bottle of bubbly - $99.
LUXURY SPA ROBES: SAVE $50. Add our luxury spa robes to your stay. Available in various sizes and colors, this miracle fabric robe is the one Oprah picked as a gift and has been included in a gift package to the stars at the Academy Awards. Seen regularly at $149, we sell for $99 each.
GIFT CERTIFICATES AVAILABLE FOR ANY OCCASION!
CALL us at (866) 424-6340 (toll free) or (608) 424-6340. Gift Certificates are available by room or dollar amounts and are the perfect experience for those who have everything!
Gifts
Give The Gift Everyone Will Love
GIFT CERTIFICATES
Give a Cameo Rose Victorian Country Inn gift certificate to someone special.
Inn Gift Certificates are the next best thing to being there. Give a Madison, Wisconsin area bed and breakfast gift certificate today from Cameo Rose to anyone... and everyone will love it and love you. It is the gift for anyone who has everything or wants everything. PLEASE CALL: 1-866-424-6340.
GIFT ITEMS
Order a Luxury Spa Robe (several sizes and many colors to select from) or a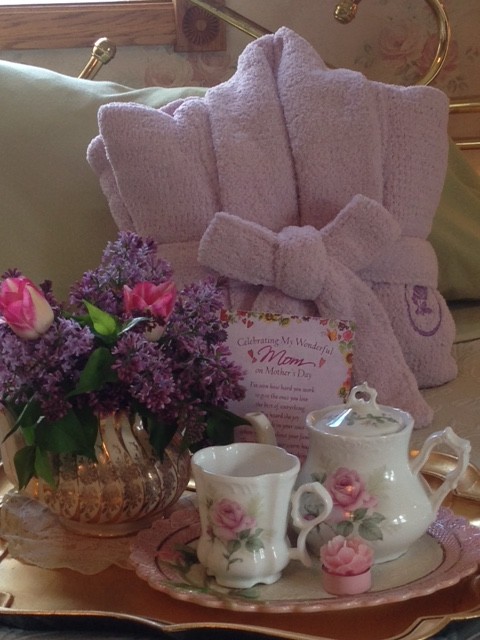 Special Occasion Package online or add these items to your reservation when you BOOK
LUXURIOUS SPA ROBES $99 - $119
$99 special during your stay or $119 plus shipping and handling.
SPECIAL OCCASION PACKAGE $99
Make your stay extra special with our Special Occasion Package including a dozen long-stemmed roses, lavishly vased with greenery, a large box of hand-made chocolates and a complimentary bottle of champagne, wine or n/a champagne.
COLLECTOR MUGS $17.99
Hand-thrown Cameo Rose Collector Mugs (like those used during your stay) are available to purchase.
Bed and breakfast cookbooks, hand made jewelry and other unique gifts are also available.
**5.5 % Sales Tax on All Purchases
Order by phone at 1-866-424-6340 toll free or from the Madison area phone 424-6340.
JOIN OUR CAMEO ROSE B AND B NEWSLETTER FOR SPECIALS & OTHER UPDATES
Map & Directions
Map and Directions: This info may be more helpful than GPS or Internet Info:
FROM BELLEVILLE (South Approach)
- Take Hwy 69 North of Belleville for 3 1/2 miles to the "Basco" sign.
- "Basco" is just a small, green sign on Hwy 69 and a dozen homes to the East. There is no stop sign or slow down for the turn, so watch for carefully.
- At the Basco sign turn right (East) through Basco on Henry Road (the only road through town) and go 7/10ths mile to our B&B sign and driveway on the left at the large curve. Severson Road begins here and heads up a large hill on your right.
- Turn Left down our 1/2 mile long driveway and follow to the very end. We are the second house on the driveway - the large, blue Victorian..

FROM VERONA ( North Approach)
- Take Hwy 69 South of Verona for 6 miles to the" Basco" sign.
- "Basco" is just a small, green sign on Hwy 69 and a dozen homes to the East. There is no stop sign or slow down for the turn, so watch for carefully.
- At the Basco sign, turn left (East) through Basco on Henry Road (the only road through town) and go 7/10ths mile to our B&B sign and driveway on the left at the large curve. Severson Road begins here and heads up a large hill on your right.
- Turn Left down our 1/2 mile long driveway and follow to the very end. We are the second house on the driveway - the large, blue Victorian.

FROM MADISON:
- Take East/West Beltline Highway (Hwys: 12/14/18/151) to the "Dodgeville Exit" which is 18 West and 151 South (Also called Verona Road).
- Follow Hwy 18 & 151 for 9 miles to Hwy 69 South (to Belleville/New Glarus).
- Take Hwy 69 South about 6 miles to "Basco" (a tiny unincorporated community with no stop sign or slow down. "Basco" comes up about 1 mile beyond the 4-way stop sign at Paoli.
- Turn Left at "Basco" onto Henry Road and follow for 7/10th mile to our Cameo Rose sign and driveway. We are at the junction of Henry & Severson roads at a large curve in the road.
- Turn Left down our 1/2 mile long driveway and follow to the very end. We are the second house on the driveway - the large, blue Victorian.

FROM CHICAGO OR ROCKFORD THRU JANESVILLE:
- I-90 to Janesville, Exit 171.
- Follow Hwy 14 West 17 miles to Evansville.
- Continue on Hwy 14 West for 6 miles north of Evansville to Junction 92 on the left.
- Follow Hwy 92 westward thru Brooklyn for 13 miles to Belleville.
- See "From Belleville" above.

FROM DUBUQUE, IL:
- Take Hwy 151 North and East to Verona.
- See "From Verona" above.

FROM WISCONSIN DELLS:
- Take Hwy 12 South 30 miles thru Sauk City and 1 mile East of town to Hwy 78 South.
- Follow Hwy 78 South 22 miles thru Mt Horeb to Round About and 18&151 East.
- Follow Hwy 18&151 East for 10 miles to Verona and Junction with Hwy 69 South.
- See "From Verona" above.
LOCAL DETAIL MAP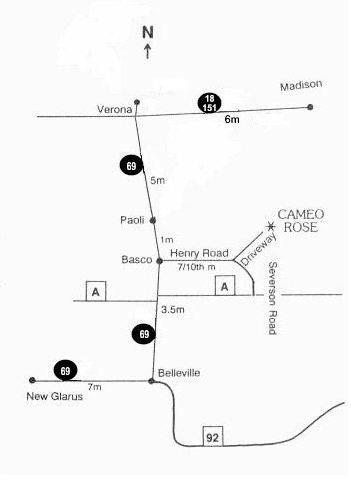 AREA MAP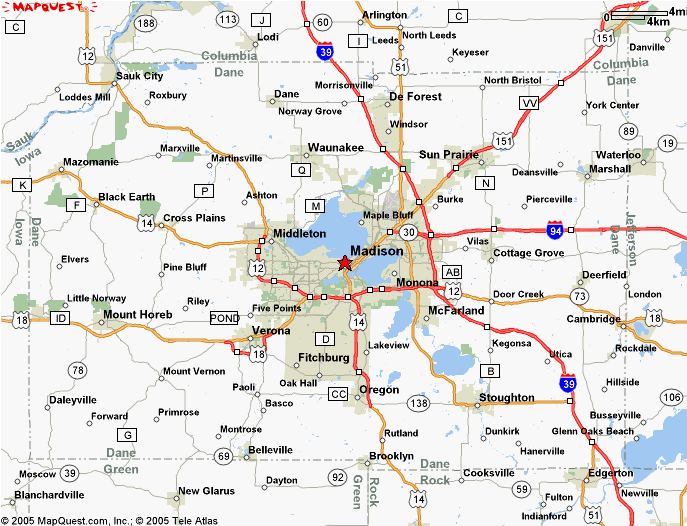 Policies
Dawn and Gary seek to provide guests with warm, friendly hospitality in a world of luxury, beauty, elegance and comfort.
SMOKE FREE INSIDE AND OUT: Cameo Rose is a smoke-free property in all areas, but smoking is permitted in or near your vehicle in the parking lot. Any violation of this policy will result in a $200 room cleaning fee, in addition to all rental amounts and you may be asked to leave the property.
GUEST USE: Cameo Rose is for the exclusive use of registered guests and the owners. For security, comfort and privacy of all, we do not give tours or allow unregistered visitors. Guest friends and relatives and others may browse our website for numerous photos of rooms and the property. Each bedroom accommodates a maximum of 2 guests, with the exception of the Victorian Cottage Group Suite. The Group Suite can accommodate up to 6 guests with an additional charge of $55 per guest/per night, after 3 guests. Regular rate is based on 1-3 guests.
CHECK-IN: 4-6 PM: We open for new check-ins at 4:00 PM. Please call or e-mail if you are going to be later than 6:00 PM to assure someone will be here when you arrive or to make arrangements to leave a key for you. If you are early, please visit nearby Belleville, Paoli, New Glarus, Madison or Mount Horeb for unique shops, dining, parks and things to do.
CHECKOUT: By 11:00 AM
PAYMENTS* - Small inns are greatly affected by cancellations. Each guest is important to us as others are turned away when you agree to rent a room or rooms. Thus we have established a fair payment policy: 50% of rental (minimum 1-night charge) is due by cash, check, MasterCard, Visa, Discover, AMX or by Cameo Rose, BedandBreakfast.com and current WBBA gift certificates when your rental is made. The balance is due at the end of your stay or rental agreement. You are responsible for the entire amount of your rental agreement. All payments are guaranteed by MasterCard, Visa, Discover or AMX or applicable gift certificate.
*IMPORTANT - Payment policies of other online booking engines may vary from our direct reservations. The policies of other online booking services apply if you book through them.
CANCELLATIONS AND REFUNDS* - A $30 cancellation fee applies to all reservations. Refunds of the remainder of your deposit only apply if you cancel 14 or more days prior to your scheduled arrival date or if your room rental date(s) are re-rented. If you are part of a group rental, a 30-day advance notice is required. The $30 cancellation fee may be waived if you accept a refund by a Cameo Rose Gift Certificate. No refunds apply to subsequent cancellations or to no-shows.
* Cancellation policies of other online booking engines may vary from our direct reservations. The policies of other online booking services apply if you book through them. Please be aware that if you make a reservation with an OTA (Online Travel Agent) you can only cancel it through them.
GIFT CERTIFICATES are perfect for all occasions. They are valid for 1 year for the amount of purchase and subject to availability and the same policies as any other payment. If we approve, a gift certificate for a dollar amount may be extended, or a gift certificate for a room value may be extended, but additional rate increases apply as applicable. Order your gift certificates today at 608-424-6340 or toll-free 866-424-6340.
CHILDREN over 12 are allowed as registered guests with a parent accompanying them at all times.
CANDLES: Only LED/Battery candles are permitted. Sorry, we cannot allow burning candles as our fire alarms are very sensitive, our insurance prohibits candle use, and guests are responsible for any damages.
PETS - Sorry, we do not accommodate pets. Call Charlie's Bark Park in Belleville, WI. CharliesBarkPark.com or 608-424-1300. OR Cherokee Kennel in nearby Oregon, WI. Phone 608-835-5250.
PRICES are subject to change and to a 5.5% sales tax.
Recipes
Cameo Rose Victorian Country Inn, Madison, Wisconsin Area Bed And Breakfast Cookbook Recipes Online
Enjoy some of our Madison WI bed and breakfast recipe book favorites in Wisconsin. These breakfast recipes won our Madison, WI area inn the "Best Breakfast In The Midwest" award in the Arrington's Journal 2006 Book of Lists as voted by our B&B inn guests. Better yet, why not stay at the Cameo Rose and experience memorable four-course breakfasts for yourself.

RASPBERRY STUFFED FRENCH TOAST
Makes 10 large thick slices. 20 Minutes.
1-Large Loaf of Italian Bread: Cut bread into 1 1/2 inch thick slices. Slice a "pocket" in each slice.
Blend Filling:
1-package of lite cream cheese.
2 tablespoon raspberry jam to lightly sweeten.
1/4 cup lite ricotta cheese to soften filling.
Beat Batter:
5 fresh extra large eggs.
1 cup heavy whipping cream.
1 teaspoon of pure vanilla extract.
2 tablespoon of sugar.
1 teaspoon cinnamon.
Raspberry Puree Topping:
1 pint fresh raspberries blended and strained into a sauce pan to remove the seeds.
Add 1/2 cup water.
Add 1/3 cup sugar.
Add 1 tsp. of lemon juice.
Bring to boil while stirring, then simmer and stir.
If necessary, thicken with a small mix of cornstarch & water paste.
Spread filling in bread pockets.
Add whole fresh raspberries on spread.
Dip filled bread into the egg batter.
Melt some margarine on hot Teflon coated grill - 300 degrees and
Grill toast about 3 to 3&1/2 min. per side until golden brown.
Cut slices in half.
Top with fresh raspberries, a couple tablespoons of sauce, a dollop of whipped cream, and some sliced almonds.

DAWN'S CRANBERRY-OATMEAL-BUTTERSCOTCH COOKIES
Ingredients:
1 Cup Butter (Softened)
1 Cup Brown Sugar (Packed)
1/2 Cup White Sugar
2 large Eggs
1 tsp. vanilla
1 1/2 Cup All-Purpose Flour
1 tsp. Baking Soda
2 tsp. Cinnamon
1/2 tsp. All Spice
1/4 tsp. Nutmeg
1/2 tsp. Salt
3 Cups Oatmeal
1 Cup Dried Cranberries
2 Cups Butterscotch Chips
1 cup Diced Pecans
Stir butter and sugars until soft and creamy, then add eggs and vanilla. Then add flour, spices and salt and mix well.
Add remaining ingredients and drop by rounded Tablespoons onto un-greased cookie sheet.
Bake at 360 for about 15 minutes or until golden brown. Cool on cookie sheet for about 2 minutes before removing.
Makes about 3-4 dozen.
Enjoy the tantalizing aromas of Fall!`

BANANA SPLIT MUFFINS
Ingredients:
3-4 Very Ripe Bananas
3 Large Eggs
2/3 Cup Crisco Oil
1 Cup Milk
1 teaspoon Lemon COncentrate Juice
2 Cups Flour
1 1/2 Cup White Sugar
1 1/3 teaspoon Baking Powder
1 1/3 teaspoon Baking Soda
1 teaspoon Salt
Your favorite chocolate or flavored chips, berries and nuts.
* Preheat oven to 350 degrees.
* Stir the lemon concentrate juice into the milk and set it aside.
* Mash the bananas (about 1 cup) into a large mixing bowl.
* Beat in the eggs one at a time.
* Add the oil to the banana and egg mixture.
* Stir well and add the milk and lemon juice.
* Pour the flour into the mixing bowl followed with the remaining ingredients.
* Stir to a blend and then beat with and electric mixer for 3 minutes on high speed.
* Stir in your favorite chocolate or flavored chips, chopped nuts and chopped berries (Strawberries, Raspberries or Blackberries) or other favorites.

EXTRA FUN FOR KIDS! Allow kids to fill their choice of colored muffin papers 2/3rds full of batter, bake and let cool briefly. Kids should fill papers with "sundae" creations of their choice of concoctions - whipping cream with cherry on top; yogurt; yogurt and whipped cream; ice cream; etc.

FRENCH HOT COCOA SUPREME
(Prepare Chocolate Mixture Ahead of Time)
1/2 Cup Ghiradelli Chocolate Chips (60% Cocoa)
1/4 C. Light Corn Syrup
3-4 TBLSP. Water
1/2 Tsp. Almond Extract
1/2 Tsp. Ground Cinnamon
1/8 Tsp. Ground Nutmeg
1 C. Chilled Cream
4 C. Milk
Amaretto (if Desired)
Chocolate Mixture: (In heavy medium saucepan) Heat chocolate pieces, corn syrup, water and spices over low heat, stirring until chocolate is melted and smooth. Stir in almond extract. Chill.
In chilled bowl, beat cream until stiff, adding chilled chocolate gradually. Continuing beating until mixture mounds when dropped from a spoon. Refrigerate.
Just before serving, heat milk through but do not boil. Fill cups 1/2 full with whipped cream mixture and add hot milk to complete. Stir to blend. Add Amaretto if desired. Top with whipped cream and shaved Ghiradelli chocolate to garnish. Inhale the rich chocolate aroma and enjoy!

"CHEF GARY'S CLASSIC HOMEMADE FRESH CHILLED ORGANIC GLUTEN FREE BREAKFAST ICE WATER COCKTAIL"
Prep: - Large Water Glass
Ingredients:
- Ice
- Water


Step #1: Add 4-8 ice cubes to large water glass. This is an important first step so be sure to add ice first to glass to avoid unnecessary splashing.

Step #2: Add cold water.

Step #3: Serve.
Step #4: Repeat for each serving.
Time: 10-15 seconds
* Note: "Chef Gary's Classic Homemade Fresh Chilled Organic Gluten Free Breakfast Ice Water Cocktail" is the single most requested item at the Cameo Rose... Savor!
Reviews
Join The 5-Star Reviews!
IF YOU STAYED WITH US, WE HOPE YOU ENJOYED YOUR STAY!
If you are able to spare a few moments of your busy day to review our inn, it would be very helpful to us. You may copy and use the same review on each option. The best option is with Google. Also helpful are TripAdvisor and BedandBreakfast.com. Potential guests rely on positive reviews in choosing a place to stay and we appreciate your help!
LIKE US, SHARE US & REVIEW US ON FACEBOOK - Tell all your friends and view all the pictures
Thanks again for your business and your kind reviews. It means the world to us! As we always say, "The nicest people in the world stay at the Cameo Rose."
Looking forward to seeing you again,
Dawn & Gary
Cameo Rose Victorian Country Inn
1090 Severson Rd, Belleville, WI 53508-9728
(608) 424-6340
reservations@cameorose.com
https://www.cameorose.com


© Cameo Rose Victorian Country Inn. All Rights Reserved.
.
Accessibility & Privacy Statement

WEBSITE ACCESSIBILITY STATEMENT
We want everyone who visits the Cameo Rose Victorian Country Inn website and our bed and breakfast to feel welcome and find the experience rewarding.
What are we doing?
To help us make the website a positive place for everyone, we've been using the Web Content Accessibility Guidelines (WCAG) 2.1. These guidelines explain how to make web content more accessible for people with disabilities, and user friendly for everyone.
How are we doing?
We're working hard to achieve our goal of Level AA accessibility, but we realize there are some areas that still need improving.
The Cameo Rose is in the process of facilitating the accessibility and usability of its website for all people with disabilities. The Cameo Rose will be implementing over time the relevant portions of the World Wide Web Consortium's Web Content Accessibility Guidelines 2.1 Level AA as its web accessibility standard or other standards to the extent required by the Americans with Disabilities Act ('ADA").
Please be aware that our efforts are ongoing. If, at any time, you have specific questions or concerns about the accessibility of any particular webpage on CameoRose.com please EMAIL us. If you do encounter an accessibility issue, please be sure to specify the webpage in your email, and we will make all reasonable efforts to make that page accessible for you.

FACILITY ACCESSIBILITY STATEMENT
Our rooms are not ADA accessible. Technically, we are an exempt facility from the American Disability Act* having only five rooms for rent and being an owner occupied bed and breakfast. Our fifth room - the Victorian Cottage Suite - is rented either as a group suite or a whirlpool suite, but not as both.
We do wish to accommodate as many people as possible, but our entry steps and internal stairs are limiting. We do have a first floor room with 36 inch doors, but it does not have a separate entry.
Thank you for checking with us for your accommodation needs.
Dawn and Gary Bahr
Cameo Rose Victorian Country Inn
1090 Severson Road
Belleville, WI 53508
PH: (608) 424-6340
* ADA exemption:
1) You do not offer any handicap accessible accommodations since the establishment is located within a facility that contains not more than five rooms for rent or hire and that is occupied by the proprietor of the establishment as the residence of the proprietor. (5 U.S.C. 301; 28 U.S.C. 509, 510; 42 U.S.C. 12186(b). § 36.104 Definitions).
PRIVACY STATEMENT
We value your privacy and will treat your email address as if it were our own. By submitting your email to us, you are agreeing to receive marketing emails from us. We won't share your email information with anyone else.
MARKETING DATA COLLECTION
We use Google Analytics' 3rd-party audience data such as age, gender, and interests to better understanding the behavior of our customers and work with companies that collect information about your online activities to provide advertising targeted to suit your interests and preferences. For example, you may see certain ads on other websites because we contract with Google and other similar companies to target our ads based on information we or they have collected, including information that was collected through automated means (such as cookies, web beacons, and similar technologies). These companies also use automated technologies to collect information when you click on our ads, which helps track and manage the effectiveness of our marketing efforts.
We may also use 3rd party vendor remarketing or retargeting tracking cookies, which may include the Google AdWords, Facebook Pixel and/or Adroll Pixel cookies. The third-party vendors whose services we use will place cookies on web browsers in order to serve ads based on past visits to our website. This allows us to make special offers and continue to market our services to those who have shown interest in them. As always, we respect your privacy and are not collecting any identifiable information through the use of any 3rd party remarketing system.
You may opt out of the automated collection of information by third-party ad networks for the purpose of delivering advertisements tailored to your interests, by visiting the consumer opt-out page for the Self-Regulatory Principles for Online Behavioral Advertising at http://www.aboutads.info/choices/, and edit or opt-out your Google Display Network ads' preferences at http://www.google.com/ads/preferences/.
Weddings
Nearby Wedding Services & Venues
Sorry, but Cameo Rose Victorian Country Inn DOES NOT do weddings.
We have suggestions below for those seeking a wedding venue in the Greater Madison Wisconsin Area.
We are the peaceful, quiet, private and romantic place to stay near Madison Wisconsin, for wedding couples and honeymooners, and for all guests.
Below are our suggestions for planning your wedding in our area. Please tell the providers you use or contact that we sent you. Thank you!
WEDDING DESTINATIONS, LOCATIONS, PLACES AND RECEPTIONS
Belleville Square Park: Small outdoor ceremonies are great under the large covered gazebo. AND, Belleville Community Park - wedding by the Sugar River and Lake Belleview under a shelter. Contact: Village of Belleville, 24 W. Main St., 608-424-3423, see also www.bellevillewi.org.
Blanchard Hall - Ideal setting for any occasion. www.blancardhall,com - 2nd and 206 South Main - Blanchardville, Wi 53516.
Montrose Town Hall - Paoli, WI just 2 miles from Cameo Rose. Available for reunions, receptions, etc; 1341 Diane Avenue, Belleville, WI., 608-424-3848.
Paoli Mill Terrace and Park - 608-845-7031 - A private park located on the grounds of the photogenic Paoli Mill and along the Sugar River. It is ideal for special occasions and just 9 miles from Madison.
Quivey's Grove Restaurant - Dawn and Gary had their wedding reception here. Outdoor tent facility, indoor Old Stone House and Stable Grill offer great wedding and reception flexibility and fine dining. 6261 Nesbitt Road, Madison, Wisconsin, 608-273-4900.
Schoolhouse Cafe - Offers ideal dinners and the grounds overlooking the Sugar River for a wedding in Historic Paoli.
ADVICE:
"Keep your eyes wide open before marriage; half shut afterwards" ~ Benjamin Franklin
LICENSES: Dane County Clerk's Office, Room 112, City-County Building, 210 Martin Luther King Blvd, Madison, Wisconsin 53703.
CAKES: Craigs Cake Shop - Wedding cakes and special occasion cakes - 604 W. Verona Ave - Verona, Wisconsin - 608-848-6331. Have your cake and eat it too!
DIAMONDS AND JEWELERS:
Goodman's Jewelers - Since 1933, The Diamond Store of Madison. The Goodman brothers have given back to their community with numerous charitable acts. They deserve your support.
DINNERS: Try one of our other favorite restaurants for Wedding dinners.
FASHION: Brandi's Bridal Galleries - Wisconsin Brida Magazine best of 2006. Bridal Gowns, Bridesmaid and Mothers dresses, Tuxedos and more. 608-527-4436.
FLORISTS, PLANT DESIGNS, GIFTS:
GIFT CERTIFICATES AND WEDDING GIFTS:
Nothing makes a better wedding gift than a Cameo Rose Gift Certificate or a gift from our bed and breakfast gift shop.
MUSIC:
PHOTOGRAPHERS / WEDDING VIDEOGRAPHERS:
TRAVEL, VACATIONS: Travel Wisconsin Vacation Guide
TUX: Nedrebo's - West Madison 608-833-8811.
OTHER WEDDING PLANNERS:
WedAlert.com, "Your Wedding Planning Just Got Easier." Listen to hundreds of wedding songs. Find local wedding professionals, articles, and much more. Visit now for your chance to win a free honeymoon.
Madison Wisconsin Wedding Planner & Guide - Greater Madison Area wedding planner guide including wedding fashion and more...
The Wedding & Event Directory
FOR SALE
Cameo Rose For Sale
FOR SALE - Cameo Rose - a Wisconsin bed and breakfast or large private country home, Wisconsin Land, Retreat, Timber Investment, Paradise and genuine getaway on 120 scenic acres between Madison WI and New Glarus WI. Opps, and "goldmine".
Brian from Bellevue, Iowa hardwood sawmill in 9/2018 said to the owner: "You have a goldmine here." And, "you have the best cared for Black Walnut Grove I have ever seen."
We are looking for a buyer or buyers or corporation that can enjoy their own paradise and have the vision to recognize the value of our property." ~ Dawn & Gary Bahr, owners.
See the whole story on how the home and Black Walnut trees can pay you back and then some and you will still have the home/inn, the 120 scenic acres and a regenerating forest:
CLICK! Wisconsin Land Retreat Timber Investment Paradise.com for the details.
The owners:
Dawn and Gary Bahr
1090 Severson Road
Belleville, WI 53508
608-424-6240