Breakfast
"Best Breakfast In The Midwest"
Cameo Rose Victorian Country Inn was voted "Best Breakfast in the Midwest" by our guests in Arrington's Book of Lists. We strive to make our breakfast a memorable dining experience. After a great night's sleep on what our guests call "the best beds", there is nothing better than a made-from-scratch, four-course breakfast elegantly served on vintage china and lace.
Enjoy Dawn's fresh fruit dishes, blended coffee or your choice of tea varieties, homemade sweet rolls, muffins or scones, fruit-stuffed French toast, Eggs Benedict, Omelets Supreme and other delights. Made-from-scratch, fresh ingredients, local and organic produce, Wisconsin cheeses, herbs, quality Black Forest or Applewood Smoked Hams or Jones Golden Brown Sausages are just some of the extras. Top it all off with a breakfast dessert with a touch of champagne or Ghiradelli chocolate. Best beds, best breakfasts in one place!
* We happily accommodate food allergies and preferences.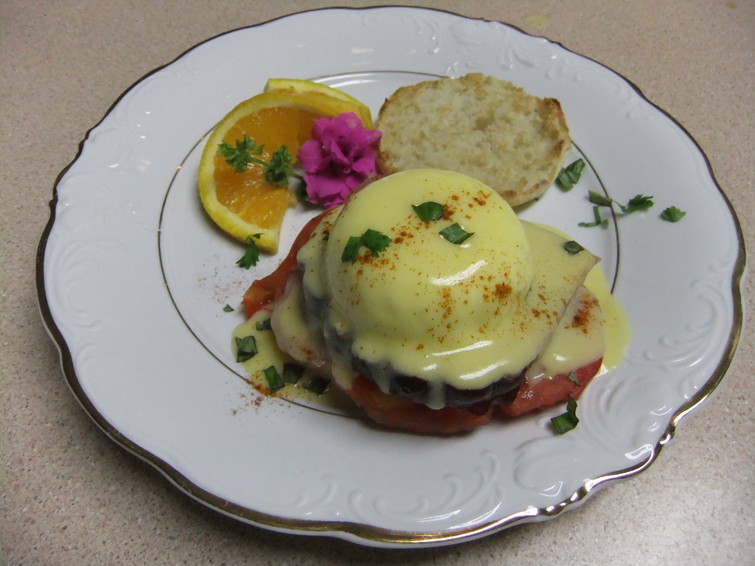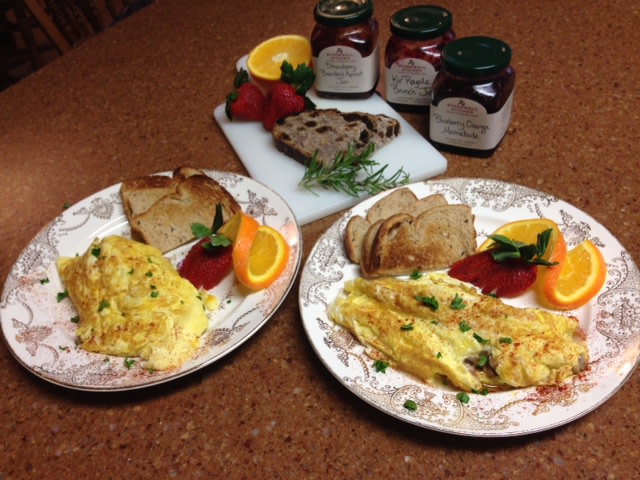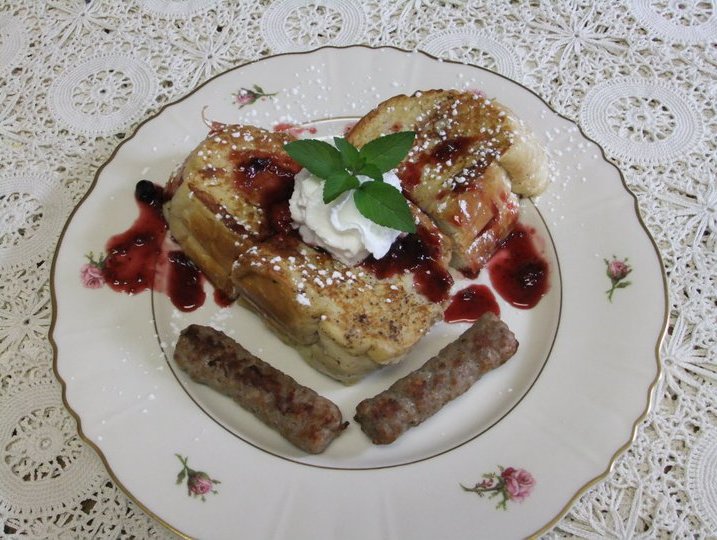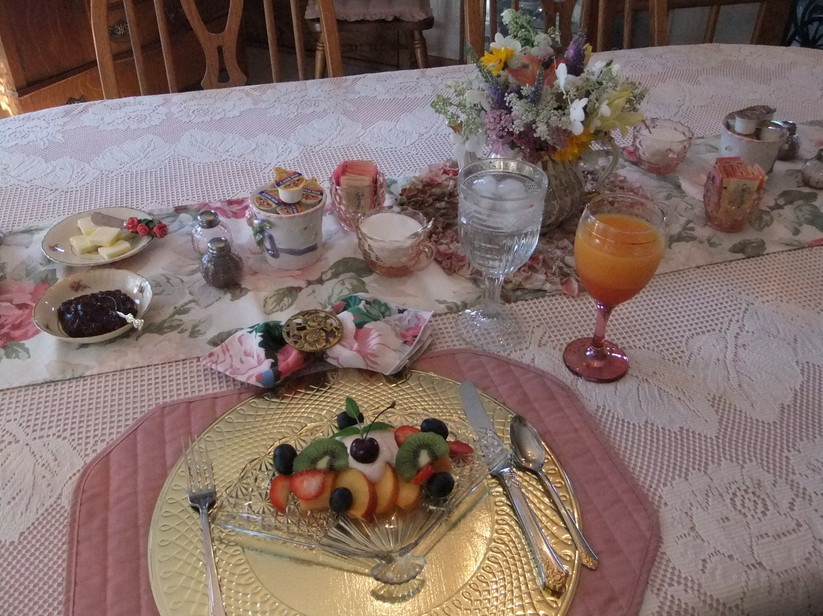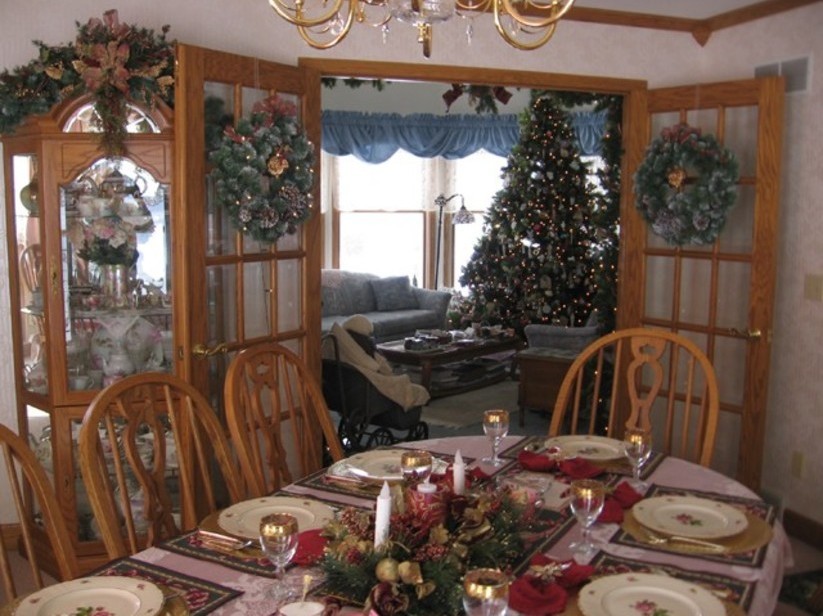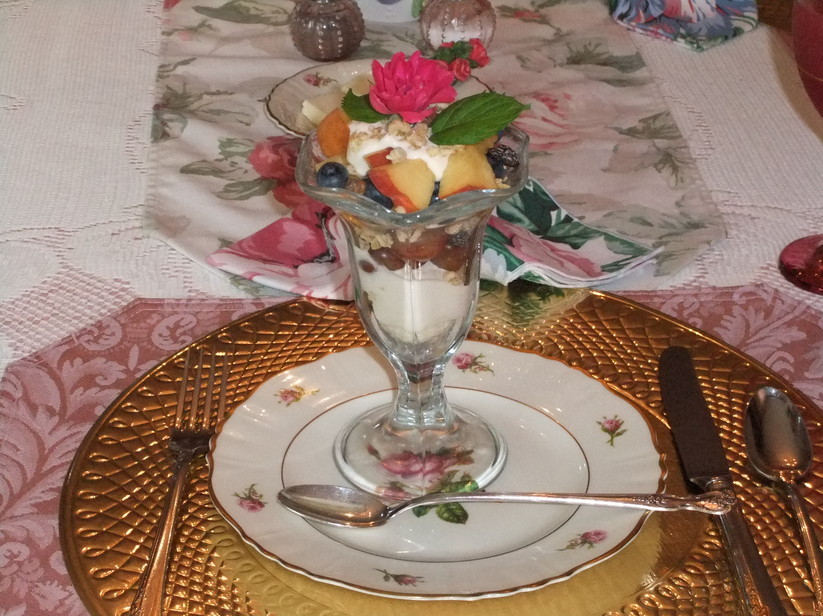 Recipes
Cameo Rose Victorian Country Inn, Madison, Wisconsin Area Bed And Breakfast Cookbook Recipes Online
Enjoy some of our Madison WI bed and breakfast recipe book favorites in Wisconsin. These breakfast recipes won our Madison, WI area inn the "Best Breakfast In The Midwest" award in the Arrington's Journal 2006 Book of Lists as voted by our B&B inn guests. Better yet, why not stay at the Cameo Rose and experience our mouth-watering four-course breakfasts.

RASPBERRY STUFFED FRENCH TOAST
Makes 10 large thick slices. 20 Minutes.
1-Large Loaf of Italian Bread: Cut bread into 1 1/2 inch thick slices. Slice a "pocket" in each slice.
Blend Filling:
1-package of lite cream cheese.
2 tablespoon raspberry jam to lightly sweeten.
1/4 cup lite ricotta cheese to soften filling.
Beat Batter:
5 fresh extra large eggs.
1 cup heavy whipping cream.
1 teaspoon of pure vanilla extract.
2 tablespoon of sugar.
1 teaspoon cinnamon.
Raspberry Puree Topping:
1 pint fresh raspberries blended and strained into a sauce pan to remove the seeds.
Add 1/2 cup water.
Add 1/3 cup sugar.
Add 1 tsp. of lemon juice.
Bring to boil while stirring, then simmer and stir.
If necessary, thicken with a small mix of cornstarch & water paste.
Spread filling in bread pockets.
Add whole fresh raspberries on spread.
Dip filled bread into the egg batter.
Melt some margarine on hot Teflon coated grill - 300 degrees and
Grill toast about 3 to 3&1/2 min. per side until golden brown.
Cut slices in half.
Top with fresh raspberries, a couple tablespoons of sauce, a dollop of whipped cream, and some sliced almonds.

DAWN'S CRANBERRY-OATMEAL-BUTTERSCOTCH COOKIES
Ingredients:
1 Cup Butter (Softened)
1 Cup Brown Sugar (Packed)
1/2 Cup White Sugar
2 large Eggs
1 tsp. vanilla
1 1/2 Cup All-Purpose Flour
1 tsp. Baking Soda
2 tsp. Cinnamon
1/2 tsp. All Spice
1/4 tsp. Nutmeg
1/2 tsp. Salt
3 Cups Oatmeal
1 Cup Dried Cranberries
2 Cups Butterscotch Chips
1 cup Diced Pecans
Stir butter and sugars until soft and creamy, then add eggs and vanilla. Then add flour, spices and salt and mix well.
Add remaining ingredients and drop by rounded Tablespoons onto un-greased cookie sheet.
Bake at 360 for about 15 minutes or until golden brown. Cool on cookie sheet for about 2 minutes before removing.
Makes about 3-4 dozen.
Enjoy the tantalizing aromas of Fall!`

BANANA SPLIT MUFFINS
Ingredients:
3-4 Very Ripe Bananas
3 Large Eggs
2/3 Cup Crisco Oil
1 Cup Milk
1 teaspoon Lemon Concentrate Juice
2 Cups Flour
1 1/2 Cup White Sugar
1 1/3 teaspoon Baking Powder
1 1/3 teaspoon Baking Soda
1 teaspoon Salt
Your favorite chocolate or flavored chips, berries and nuts.
* Preheat oven to 350 degrees.
* Stir the lemon concentrate juice into the milk and set it aside.
* Mash the bananas (about 1 cup) into a large mixing bowl.
* Beat in the eggs one at a time.
* Add the oil to the banana and egg mixture.
* Stir well and add the milk and lemon juice.
* Pour the flour into the mixing bowl followed with the remaining ingredients.
* Stir to a blend and then beat with and electric mixer for 3 minutes on high speed.
* Stir in your favorite chocolate or flavored chips, chopped nuts and chopped berries (Strawberries, Raspberries or Blackberries) or other favorites.

EXTRA FUN FOR KIDS! Allow kids to fill their choice of colored muffin papers 2/3rds full of batter, bake and let cool briefly. Kids should fill papers with "sundae" creations of their choice of concoctions - whipping cream with cherry on top; yogurt; yogurt and whipped cream; ice cream; etc.

FRENCH HOT COCOA SUPREME
(Prepare Chocolate Mixture Ahead of Time)
1/2 Cup Ghiradelli Chocolate Chips (60% Cocoa)
1/4 C. Light Corn Syrup
3-4 TBLSP. Water
1/2 Tsp. Almond Extract
1/2 Tsp. Ground Cinnamon
1/8 Tsp. Ground Nutmeg
1 C. Chilled Cream
4 C. Milk
Amaretto (if Desired)
Chocolate Mixture: (In heavy medium saucepan) Heat chocolate pieces, corn syrup, water and spices over low heat, stirring until chocolate is melted and smooth. Stir in almond extract. Chill.
In chilled bowl, beat cream until stiff, adding chilled chocolate gradually. Continuing beating until mixture mounds when dropped from a spoon. Refrigerate.
Just before serving, heat milk through but do not boil. Fill cups 1/2 full with whipped cream mixture and add hot milk to complete. Stir to blend. Add Amaretto if desired. Top with whipped cream and shaved Ghiradelli chocolate to garnish. Inhale the rich chocolate aroma and enjoy!

"CHEF GARY'S CLASSIC FRESH CHILLED BREAKFAST ICE-WATER COCKTAIL"
Ingredients:
- Ice
- Water
- Large Water Glass
Step #1: Add 4-8 ice cubes to large water glass. This is an important first step so be sure to add ice first to glass to avoid unnecessary splashing.
Step #2: Add cold water.
Step #3: Serve.
Step #4: Repeat for each serving.
* Note: "Chef Gary's Classic Fresh Chilled Breakfast Ice-Water Cocktail" is the single most requested item at the Cameo Rose... Savor!